Earl of Sandwich®

West Palm Beach Travel Plaza
ADDRESS
Florida Turnpike Mile Marker 94
Lake Worth, FL, 33467
Get Directions
HOURS
Mon: 8:00 AM - 7:00 PM
Tue: 8:00 AM - 7:00 PM
Wed: 8:00 AM - 7:00 PM
Thu: 8:00 AM - 7:00 PM
Fri: 8:00 AM - 7:00 PM
Sat: 8:00 AM - 7:00 PM
Sun: 8:00 AM - 7:00 PM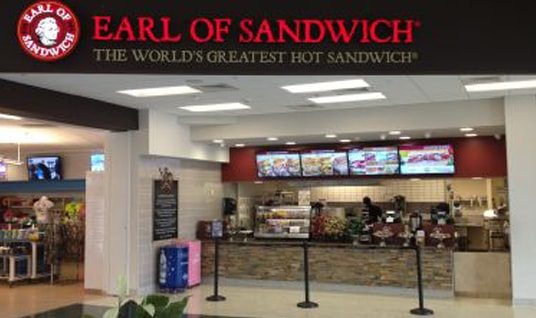 Loyalty to the Crown has its Rewards
Join the sandwich family that started it all. Sign-up for the Earl of Sandwich® Royalty Club and receive a free brownie and double points on your birthday, as well as other rewards and exclusive offers.
Learn More
About Earl of Sandwich® West Palm Beach Travel Plaza
We invented the Sandwich® in 1762. Our secret is our famous artisan bread, baked when you order, and traditional family recipes prepared with fresh ingredients.
In 1762, John Montagu, the 4th Earl of Sandwich®, invented the meal that changed dining forever. As the story goes, he was playing cards and did not want to leave the gaming table to eat. He asked for a serving of roast beef to be placed between two slices of bread so he could eat with his hands. Thus, the Sandwich was born.
earlofsandwichusa.com