Earl of Sandwich®

Detroit Metro Airport
HOURS
Mon: 5:00 AM - 8:00 PM
Tue: 5:00 AM - 8:00 PM
Wed: 5:00 AM - 8:00 PM
Thu: 5:00 AM - 8:00 PM
Fri: 5:00 AM - 8:00 PM
Sat: 5:00 AM - 8:00 PM
Sun: 5:00 AM - 8:00 PM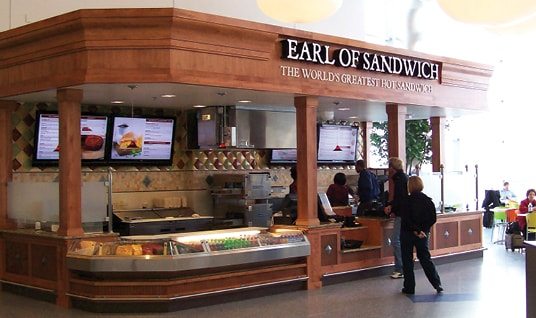 This Holiday, try our Holiday Turkey Sandwich and Peppermint Brownies
This sandwich features Turkey, cornbread stuffing, gravy, cranberry sauce & mayonnaise on freshly baked artisan bread.
Order Online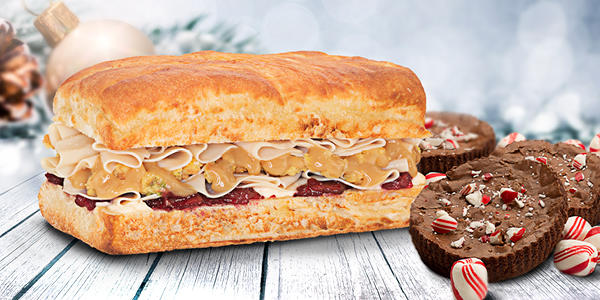 About Earl of Sandwich® Detroit Metro Airport
Welcome to Earl of Sandwich at Detroit Metro Airport. Our extensive menu pays tribute to the art of the sandwich. All of our handcrafted sandwiches are made with fresh-baked, artisan bread and everything that we serve is created with the finest ingredients available.

Earl of Sandwich, located in North Terminal near Gate D26 in the Detroit Metro Airport, is the easy and convenient place to pick up a grab 'n go sandwich on your way to your gate and enjoy a made-to-order, hand-crafted sandwich, wrap or salad.

Do you have an early flight? Earl of Sandwich at Detroit Metro Airport has your breakfast needs covered. Start your day with a cup of coffee paired with any of our signature hot breakfast sandwiches, muffins or parfaits.

For delicious lunch and dinner selections, stop by and see us at the home of the World's Greatest Hot Sandwich® and try any one of our classics, like The Original 1762®, with roast beef piled high and topped with cheddar and horseradish sauce on our artisan bread. If you're looking for something new, try the Holiday Turkey sandwich. It has everything you'd expect from a delicious holiday meal. It's topped with cornbread stuffing, turkey gravy, cranberry sauce and mayonnaise for a satisfying and unique sandwich experience.

At Earl of Sandwich, we serve much more than just top-quality sandwiches. Our extensive menu includes fresh salads, delicious wraps, and much more. For dessert, try a delicious chocolate chip cookie or one of our brownies, which feature rich Ghirardelli® chocolate.

Earl of Sandwich at Detroit Metro Airport is open daily 5AM to 9PM and is the best place to enjoy quality, hand-crafted sandwiches for breakfast, lunch or dinner. Don't settle for a forgettable airport meal when you can have a sandwich worthy of royalty. Join us and experience the World's Greatest Hot Sandwich at Earl of Sandwich Detroit.
earlofsandwichusa.com